International students solved problems for business community in Silkeborg
In connection with the Growth4SMEs project, eight students from Norway and Belgium were invited to take part in a case competition organised by the Faculty of Arts at Aarhus University and Silkeborg Municipality.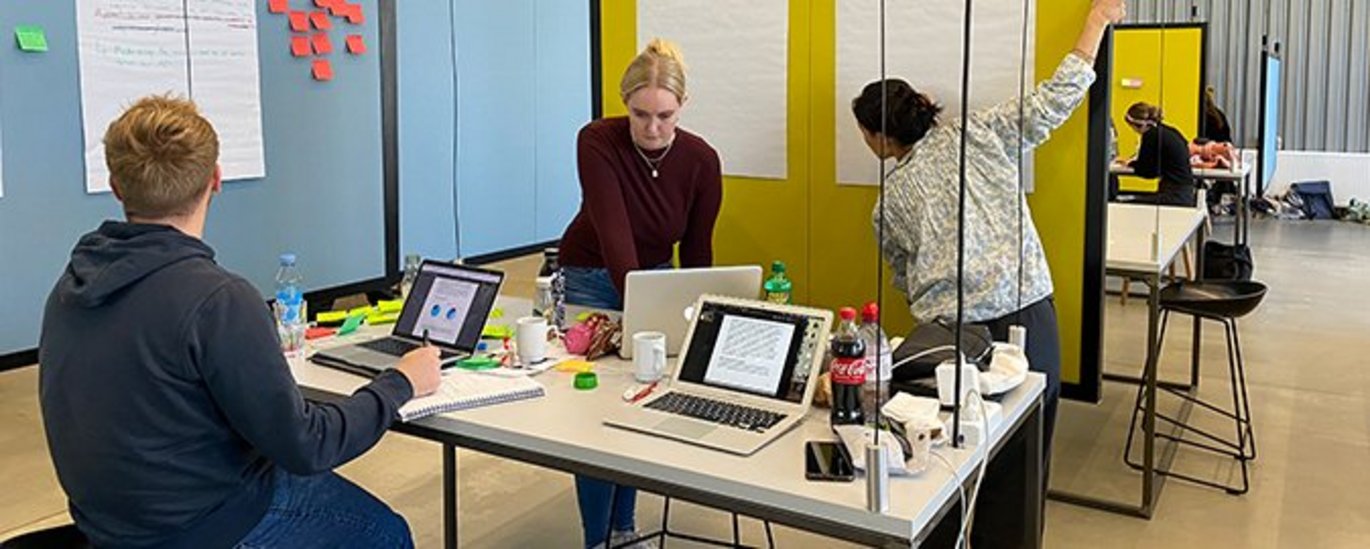 Five local companies from Silkeborg gained an international perspective on the challenges that they were facing during this year's case competition in the Stay Relevant project. Eight students from the University of Oslo and UC Leuven-Limburg in Belgium came to Denmark to take part.
Based on the Growth4SMEs project, the aim of which is to connect graduates with small and medium-sized enterprises, the Norwegian and Belgian participants used their academic exper-tise to find practical solutions for the business community in Silkeborg.
They were joined by more than 120 students from the Faculty of Arts, and there was no mistak-ing the enthusiasm of the international participants.
"The international angle has been fantastic. We've been given the chance to meet students from other countries and cultures, and the case competition really challenged us to abandon our comfort zone and drop our normal habits. So it was a really interesting experience," ex-plains Bernard Geuns, a teacher who is also studying accountancy at UC Leuven-Limburg.
Why not put the marketplace in the lake?
Geuns and his fellow students from the Belgian university were asked to produce a proposal for Handel Silkeborg (the local trade association), who are interested in finding a new location for the town's marketplace. The students definitely thought outside the box in an attempt to come up with a decent proposal.
"We walked round the town and found a number of good locations, but the lake caught our eye immediately. So we came up with a pretty ambitious idea: why not put the marketplace in the lake? We've got something similar in Belgium. In Limburg there's a road that passes straight through a local lake. We thought it would be really interesting to do something similar here. It's true that our idea wasn't particularly realistic. But it was feasible," says Geuns.
"I think the company were a bit surprised by our proposal," he says with a grin.
A great way to gain experience
Geuns and his Norwegian and Belgian fellow students feel that taking part in an international case competition like the competition organised by Growth4SMEs is a great way to gain experi-ence.
"I think this kind of case competition is really useful. I must admit that I wasn't sure why I was studying Chinese before taking part in the first competition in Norway. But the whole process has helped me to appreciate my opportunities. It's also our chance to show companies what we can do," explains Tarej Brekke, who is studying Chinese at the University of Oslo and had won a local competition in Norway alongside one of his fellow students.
Bernard Geuns agrees:
"We've had the chance to interact with other people with different opinions – even within our own group. We've learned to listen and to stay in the background sometimes – and to try and keep an open mind, because we're all studying different subjects and have different points of view. It's also been a major challenge to focus on a specific case in a company and country with which we weren't familiar. But I'd definitely recommend this kind of international experience to other students," concludes Geuns.
The plan is that in March 2022 students at the Faculty of Arts at Aarhus University will be visit-ing UC Leuven-Limburg in Belgium in connection with the Growth4SMEs project to take part in a similar case competition.

Facts – Growth4SMEs:
Growth4SMEs is an abbreviation for GRaduate Ongoing Workqualification Towards offering Highly qualified skills for SMEs. It's a collaborative project involving Aarhus University, Aarhus Municipality, the University of Oslo and UC Leuven-Limburg in Belgium.
One of the goals of the project is to help graduates to find jobs more quickly in small and me-dium-sized enterprises.
One way of achieving this is by organising various case competitions and a joint digital platform and courses which focus specifically on the kind of qualifications that companies need.
The project has received funding from the EU's Erasmus+ education pool and was launched earlier this year.